Desktop Video Conferencing for You
and Your Loved Ones
Desktop Video Conferencing is a system that is set up for use in your home or your own work area. Is is also one of my personal favorites. This type of video conferencing can be done from your laptop or personal computer. This system cost no more than approximately $450 to set up / operate.

It is used more commonly among households who want to video chat with friends and relatives vs. medium sized or small businesses who want to network for business purposes.

Skype and Oovoo have over 1 billion registered users combined.

---
Keep in Touch, But Do It Better
When you live thousands of miles away from fiends and loved ones, it can affect you negatively. This type of Conferencing can make you feel at home. The things you see when talking to your family through video, which may seem strange to say but means so much to a person who may be homesick: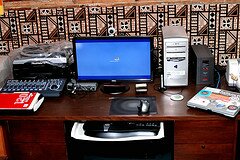 Your family in real time

New hair styles

Background (new furniture and home decorations, etc.)

Weather outside (if window in the background)

See what's being made for dinner

New born infants

What they are wearing

Facial expressions (instead of only a voice)

The business world is VERY fast paced and is difficult to keep up with if you are not prepared to communicate effectively. If you think desktop video conferencing is too expensive just to be able to conduct business from your small organization or home . . . think again. All you need to do to conduct a desktop video conference is:

A Desktop Computer

High Speed internet connected

Microphone (Head set)

Webcam

You don't need huge expensive expensinve equipment to video conference from your office or home. You just need the the equipment mentioned above along with your client having the same equipment. Instead of flying across the country you can stay where you are and see the person you're working with being hundreds of miles away.